How to register for courses
Constructing A Course Schedule | Steps to Course Registration | Your Schedule | Math 5| Common Registration Errors | Registration Resources
Determine which courses to take. Refer to the email you received from your academic advisor. It will tell you which courses you should register for to complete your degree requirements. In general, courses should be taken in sequence. For example, if you are currently taking CHEM 2, you should take CHEM 10 the following semester. 

Consult the Schedule of Courses at http://registrar.ucmerced.edu/go/schedule to ensure that the courses you want to take will be offered.

Begin constructing your schedule. 
Most courses have multiple components, such as lecture, discussion, and/or lab. Be sure to include all of the required components.
Select lecture times first, then discussions and/or labs for each course.
Record the 5-digit CRN for each component of each course.
Log on to the student portal my.ucmerced.edu and click on MyRegistration in the Student Services drop-down menu.

To register for courses, select Register/Add/Drop Classes.                                                                                                             
Select the appropriate term.
Enter one CRN in each box under Add Classes Worksheet. You must input all associated CRNs (lecture, discussion and/or lab) for a course at the same time. Click Submit Changes.

Verify that you successfully registered for each course. 

If you encounter errors, pay close attention to the status on the far left.

After successfully registering for your classes without any holds or errors you can see an overview of your schedule by clicking on the Student Schedule tab.
On this screen, you can view detailed information about your classes, including the days, times, locations, instructors and more.  

To sort your schedule by day and time, click on the Student Schedule By Week tab.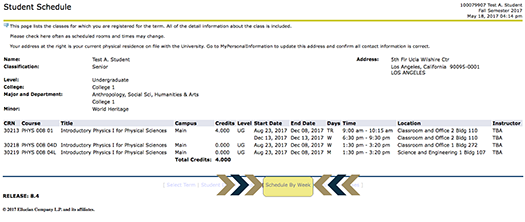 On this screen, you can enter any date and you will see your class schedule for the week in which that date falls. If you enter a date that falls on a weekend, you will see your schedule for the prior week. 
MATH 5 is a hybrid course which means that students will only be attending their chosen discussion sections. Although, in order to register for MATH 5, both the course 5 digit CRN number AND a corresponding discussion section CRN must be entered.  Disregard the "TBD" for the lecture time.
Please see illustration below: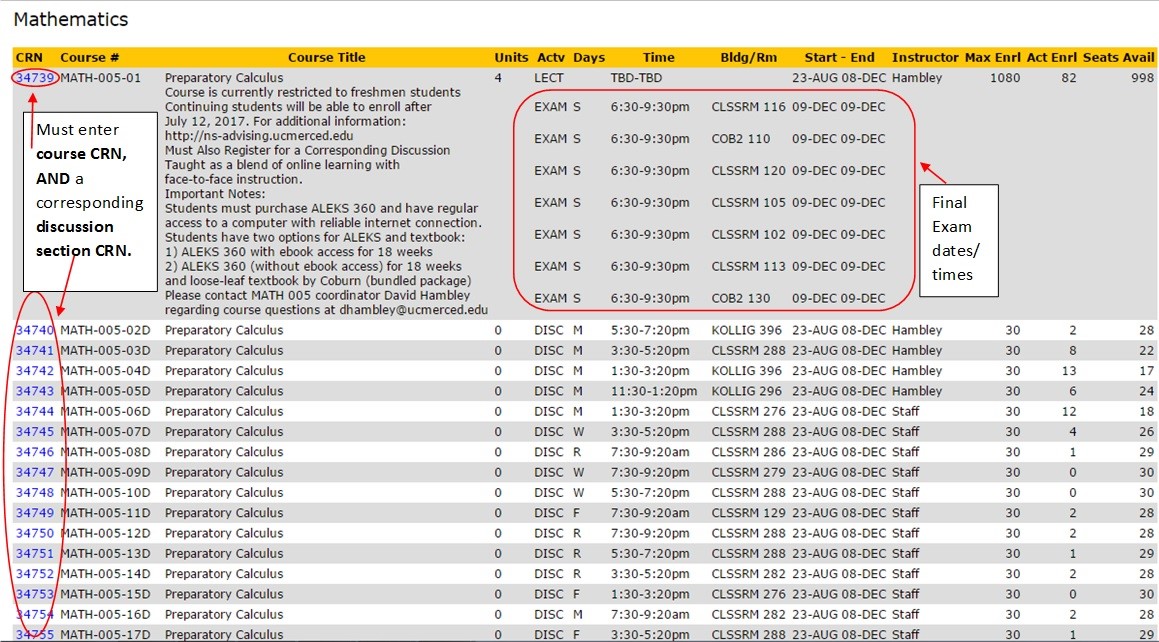 Linking Errors
This is a common issue for students when enrolling in courses. At times, you might get a linking error, if you get a linking error for a class, pay attention to what course it is. How many components or parts does it have?
Remember:
You must enroll in all parts of the class (lect, discussion, lab, etc.)
For each lecture, there are a list of discussions that you can enroll in, choose one discussion section that is open.
Here is an example: 
There are some courses (i.e., Phys 008, Chem 002 and Phys 009) that have paired discussions and labs. For each lecture, you will need to enroll in a paired discussion and lab section. Here is an example: 
Major Restriction
This error is occurring because the course requires you to be declared in a certain major.  You should choose another course or contact your advisor for assistance.
You can find out which courses are restricted by major at registrar.ucmerced.edu/go/schedule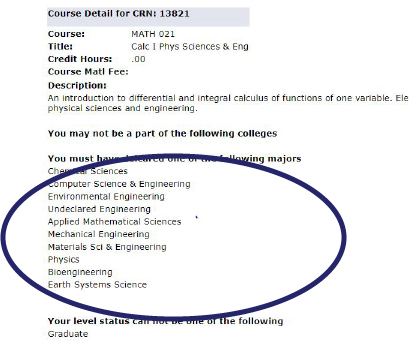 Prerequisite
The error is occurring because the course you are trying to register for requires you to complete another course prior to registering in the one you received the error.

Example: Chemistry 002, General Chemistry, has a prerequisite of Chemistry 001 or a passing score on the Chemistry Placement Exam or a score of three or better on the AP Chemistry Exam.
To learn the prerequisites for a specific course you should look in the University Catalog or though the portal by clicking on the CRN of the course and then clicking the highlighted course title. You should contact your academic advisor if you need assistance.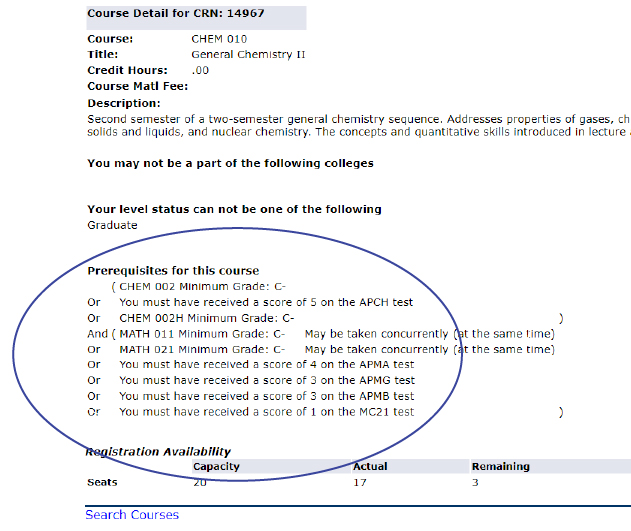 Time Conflicts
The error is occurring because you have tried to register for two courses scheduled at the same time or the final exam time for one course is the same time as another. Remember, a time conflict may be with a lecture, discussion, lab or final exam.
You should try to register for another open section of the same course, complete a Time Conflict Override Form, or register for a different course. You should contact your academic advisor if you have any questions.